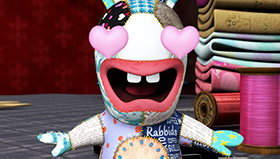 Title

"Rabbids" short animation
Summary

Mysterious creatures, as known as Rabbids, have invaded Earth! Rabbids have evolved and adapted to human society over the course of 100 years. Who on earth are they!? They are curious and naughty, and love to play around! Welcome to the silly, hilarious world of Rabbids!
About

Fanworks has created a short animated film of the world-famous "Rabbids". The 10 world-wide animation studios from countries such as France, Japan, United States, and South Korea have established the project "RABBIDS SHORT STORIES", where each studio makes a short animation of "Rabbids" using its own unique style. Fanworks's production of "Love At First Bite", portrays Rabbids awakened to love in a fancy quilt world. Along with other international short animations, it illustrated "Rabbids" freely, without any restriction.
Format

2mins
Director

Usui Shunsaku
Poduce

UBISOFT MOTION PICTURES RABBIDS
Animation Productionyear

Fanworks

2019
Genre

Comedy
Target

All ages
Copyright

UBISOFT MOTION PICTURES RABBIDS
Media partner
Related Links